Thoughts on Interdependence at Commencement
By: Jen McWaters, Psy.D. | June 22, 2018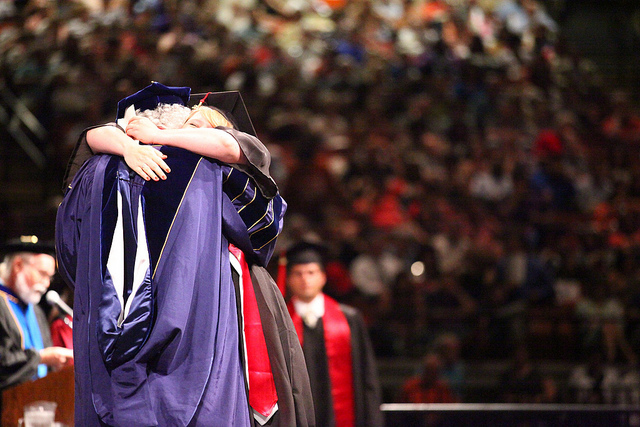 It's graduation season! A graduation ceremony is also known as commencement wherein the completion of something arduous and challenging is recognized while celebrating the beginning of a new journey.
I attended a graduation ceremony this weekend and had some nostalgia reflecting back on my own graduation experiences. The excitement, relief, and anticipation of what's next were palpable and contagious. Like the graduates, I felt energized. I felt motivated to reach my full potential in my career and beyond. Yet, while the feeling compelled "me", I had to acknowledge the "we" that I knew was equally important.
Having the resources, time, and energy to get through an academic program is rarely achieved by isolation from others and independence. Success doesn't happen in a vacuum. Instead, the support, love, and guidance from friends, family, mentors, and the community are what gets graduates through this challenging experience. In our individualistic American culture, it can be easy to focus solely on our individual successes and needs while neglecting to nurture and utilize the relationships around us. We can become consumed with our pursuit of independence to the point of hurting ourselves and others. The other extreme — becoming too dependent on others — has its own set of consequences. Striking a balanced interdependence, or mutual reliance, honors the needs of both the "we" and the "me".
Take some time this week to reflect on how you might better cultivate healthy interdependence within your relationships. This can mean moving the scale toward dependence to receive help when needed, as we cannot successfully face the challenges of life alone. Maybe it means developing more self-confidence and independence, challenging yourself to do something on your own, even though it might seem a bit scary.
We each have our own unique set of strengths and talents. Within an interdependent community are we best able to leverage these abilities to reach our fullest personal potential.
Image: Moody College of Communication on flickr and reproduced under Creative Commons 2.0