By: Rochelle Perper, Ph.D. | February 17, 2015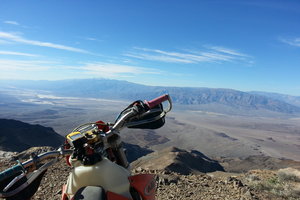 I recently came back from a dirtbiking trip to Death Valley and the surrounding area refreshed and refocused. There are many things that I love about dirtbiking like the opportunity to explore new places and be physically challenged. However, the aspect of the sport that appeals to me the most is the ability to Find Perspective. When I look out over a vast valley or see a spectacular view of a mountain ridge in the distance I feel humbled and awe-struck. I have a real sense of how small I am in comparison to the vast outdoors and how simple and clear things seem in that moment.
Most of us are familiar with the concept of perspective as a broader or narrower field of view, or seeing things in a different way. For me, finding perspective means getting "out of my head" and seeing the world from a thousand foot view. When I experience something new, exciting, and bigger than myself my problems and worries seem to matter less. In addition, my problems seem more manageable. Hey, if I can climb up this gnarly, rocky single track up the side of the mountain, than surely I can work through whatever is troubling me at home!
Psychological Benefits of Finding Perspective
Finding perspective has many important psychological benefits. Perspective gives us the ability to see solutions more clearly, practice flexibility in our thinking, exercise creativity, be present in the moment and generally enjoy ourselves more. Between everyday life responsibilities and the daily upkeep of simply living life, it can seem like we don't have the time or space to reflect on the direction of our lives – and how we want to live it. For me, when I return from a trip I am reminded of why I do what I do, and how much I love my work. I feel eager to re-engage in relationships and have energy to take on new projects. I consider finding perspective to be the most effective prescription for burnout and mental fatigue.
How To Find Perspective
There is no one single way to find perspective. The possibilities for finding perspective are endless, and are as unique as the individual in pursuit of it. I interviewed friends, colleagues, and family members to learn how they find perspective. Here are some inspiring examples:
"When I need to be reminded about what really matters in life, all I have to do is look at my daughters smiling face." – Amy S., speaking about her daughter, Kelsey, 14 months
"Looking out over the waves at sunset cliffs makes my problems feel so small." – Jule R.
"Playing with my dog at the dog park makes things seem so simple." – Melissa T.
"Going for a long run hits the spot." – Scott S.
"Surfing makes me feel like I can 'wide the waves of life' Haha." -Jordan A.
"Lunch with my best girlfriends always helps me get back on track." – Mary K.
"Whenever I have the chance to take a hike or be in nature I feel like I can reflect on things." – Joanne S.
"Meditation grounds me." – Sophie K.
"International travel is the best way for me to get perspective. I had the opportunity to work with a village in need in Thailand and it changed my life – for the better." Kevin M.
"Taking a hot yoga class!" -Caroline W.
Getting Started
To discover the ways to find your personal perspective, start paying closer attention to how you are feeling. Chances are you already have the answer, you just don't know it yet. Try asking yourself: When do I feel my best? and What do I truly love doing? The answers to these questions will likely point you in the right direction. The next step is to make finding perspective a priority in your life. You are the only one with the power and authority over YOUR life, so do what it takes to make it happen. Communicate your intentions with those around you, and consider including your closest loved ones in on your plan. It's okay to start small and build your way up. Finding perspective can take time, and you may have some false starts. If this is the case, keep trying! Above all, be patient and kind with yourself, and enjoy the journey.