When It's More Than the "Baby Blues"
By: Kristen Lipari, Ph.D. | July 22, 2022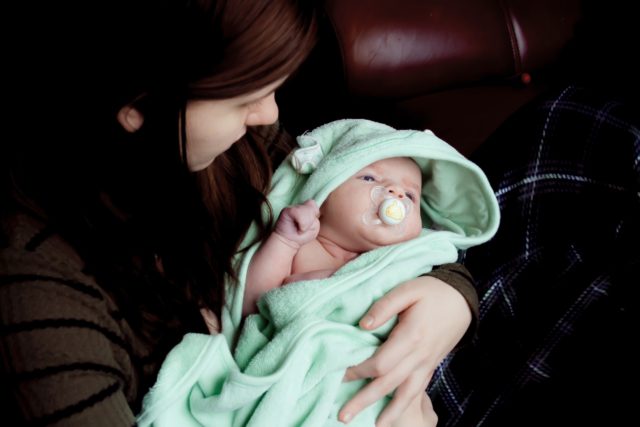 Depression and Anxiety During and After Pregnancy
Bringing a child into the world can be one of the biggest and happiest events in your life, but it can also be extremely stressful. Many physical and emotional changes happen during, and after pregnancy, bringing on unique mental health challenges. It is very common for pregnant people and new parents to feel sad, anxious, overwhelmed, worried, or exhausted. In fact, an estimated 80% of birthing people experience these symptoms postpartum, often referred to as the "Baby Blues."
While mild mood changes are common, they typically subside within two weeks. When symptoms persist, or worsen, it could be a sign of Perinatal Mood and Anxiety Disorder (PMAD).
When To Be Concerned
The period when a person is pregnant and after the baby is born is called the "perinatal" period. PMAD is diagnosed when a person experiences the following symptoms that last longer than two weeks:
Withdrawal from your baby or partner
Severe anxiety that interferes with sleep
Feelings of worthlessness or guilt
Preoccupation with death
Irritability
Worrying a lot of the time
Unwanted or upsetting thoughts
Feeling less interested in your baby than you might expect
Feeling sad when everyone is telling you how happy you must feel
It's hard to imagine caring for a newborn and managing these challenges! While we can't fully predict the onset of PMADs, we know that there are significant risk factors that help determine who is at high risk. According to the Postpartum Support International, the following risk factors predispose PMADs:
Risk Factors of PMADs
History of mood disorders including previous PMAD
Under age 18
Lack of social support and relationship stress
Financial stress or poverty
History of abuse or trauma
History of PMS/PMDD
Sensitivity to hormonal shifts
History of substance abuse
Perinatal Risk Factors
Perinatal complications, infertility, miscarriage, or infant loss
Unplanned or unwanted pregnancy
Breastfeeding difficulties
Having multiples (e.g., twins, triplets)
Difficult infant temperament
Premature delivery or NICU stay
Sleep deprivation
Help is Available
All pregnant and postpartum people should be screened for mood and anxiety disorders, especially if you have some of these risk factors in your history. A professional San Diego Psychologist that specializes in perinatal mental health will provide education regarding perinatal mood and anxiety disorders to pregnant and postpartum women and their families. Specialized care can help prevent the development of PMAD, and if symptoms develop, a variety of effective treatment options exist. Contact us today to get the help you need so you can stay ahead of your risk and more fully enjoy time with your new baby.