Drinking During the Pandemic
By: Demet Çek, Ph.D. | April 1, 2022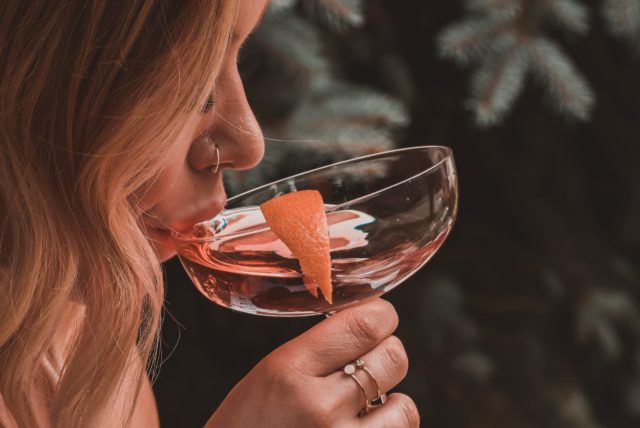 Coauthored by Demet Çek, Ph.D. and Rochelle Perper, Ph.D.
We've all been there: it's been a long, hard day at work, and you open a bottle of wine or crack open a beer to unwind. One glass, or one beer can easily turn into two, or three, and become a daily habit – especially during times of high stress. More and more individuals are turning to alcohol to cope with the stress, trauma, and disruptions of the COVID-19 pandemic. The path from recreational drinking to problem drinking can sneak up on us, and we might not see it coming.
Pandemic Drinking
If you notice that you are drinking more than usual, you are not alone. Studies show that alcohol consumption rose by 14 percent among adults over 30 during the pandemic, and binge drinking increased by 21 percent. A 2021 study conducted by scientists at Massachusetts General Hospital estimated that the increase in alcohol consumption in the U.S. during the COVID-19 pandemic will cause 8,000 additional deaths from alcohol-related liver disease and 1,000 cases of liver cancer by 2040.
Alcohol use as a coping mechanism for stress and sadness is prolific in the United States. During the COVID-19 pandemic, significant shifts in our routines and increased isolation, as well as the prolonged uncertainty, anxiety, loneliness, boredom, and traumatic grief all contributed to an increase in alcohol consumption for thousands of Americans.
Sustained increase in alcohol consumption has short, and long-term consequences for your health and overall wellbeing. Excessive drinking is associated with an increased risk for liver disease, cancer, hypertension, stroke, and is the fourth leading preventable cause of death in the U.S.
Alcohol misuse is linked with anxiety, depression, irritability, risky behaviors, sleep problems, decreased productivity, and strained relationships.
Dialing Back Your Drinking
If you answer 'yes' to two or more of the questions below, it is time to take a closer look at your relationship with alcohol:
Have your friends or family expressed concern or criticism for your drinking habits?
Do you find yourself counting down the hours until your next drink?
Do you spend a significant amount of time drinking, or recovering from drinking?
Are your relationships strained because of your drinking habits?
Do you prioritize drinking over activities that you used to enjoy?
Is your drinking interfering with your work responsibilities?
Are there times when you drank more than you intended to without realizing it?
Do you have cravings?
Have you ended up in situations that are dangerous because of your drinking?
Do you have to drink more to achieve the same effect?
Are you experiencing a worsening of depressive, or anxious symptoms?
Do you feel shaky, nauseous, or sweaty if you haven't had a drink in a while?
If you are concerned about your drinking, it is important to meet with your medical doctor for a health check-up. Having a collaborative, honest conversation about drinking with your doctor will help you understand your unique risk factors and health implications. Most people know that alcohol is linked to negative health outcomes but still find it hard to regulate their drinking, which is why it is important to seek professional support to understand and change your relationship with alcohol. There are many treatment options available, ranging from individual therapy and community support groups to intensive outpatient therapy and inpatient rehabilitation programs.
For alcohol-related concerns that cause mild to moderate impairment, individual therapy and/or group therapy are the most effective ways to create lasting, meaningful change.
Meeting with a Therapist
Understanding your unique relationship with alcohol is a complex process. Enlisting the support of a San Diego Psychologist will give you the support and professional guidance you need to know your limits and develop healthier, alternative coping strategies.
Talking with a therapist about your drinking doesn't mean that you must quit entirely. You and your therapist will work together to establish goals and identify small steps that you can take for manageable, sustainable change.
The team at Therapy Changes provides empirically-supported, action-oriented therapies to help you learn strategies to better manage your stress, improve your relationships and heal underlying trauma. We honor the courage it takes to ask for help – especially for the first time.
Contact us to find a therapist who specializes in alcohol use-related problems. Your compassionate and knowledgeable therapist will work with you in a safe and judgement free environment. You have nothing to lose, and much to gain by taking the first step.
References:
Changes in Adult Alcohol Use and Consequences During the COVID-19 Pandemic in the US (2020) JAMA Network Open 3(9):e2022942. doi:10.1001/jamanetworkopen.2020.22942.
Contribution of excessive alcohol consumption to deaths and years of potential life lost in the United States. Stahre M., Roeber J., Kanny D., Brewer R.D., Zhang X. Prev. Chronic Dis. 2014;11:E109. doi: 10.5888/pcd11.130293.
Effect of increased alcohol consumption during COVID-19 pandemic on alcohol-associated liver disease: A modeling study (2021) American Association for the Study of Liver Disease (AASLD) doi:10.1002/hep.32272.
Harris Poll and Alkermes plc. Survey (2021) https://www.prnewswire.com/news-releases/new-survey-provides-insights-into-drinking-behaviors-during-the-pandemic-301382099.html
Photo by Jacalyn Beales on Unsplash