Get Out of Your Comfort Zone! Join a Men's Group
By: Demet Çek, Ph.D. | February 25, 2022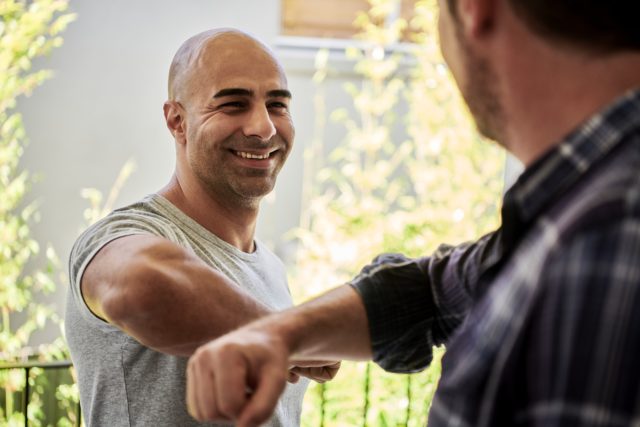 The idea of joining a therapy group can be intimidating at first. You may find yourself contemplating questions such as: What is a men's group? What am I going to get out of this that I may not get elsewhere? Will I be understood or accepted? As facilitator of the Men's Circle Group at Therapy Changes, I am frequently asked these types of questions. This article provides helpful information and seeks to answer some of these questions so you can decide if joining a men's group at Therapy Changes may be beneficial to you.
What is a Men's Group?
A men's group is a small group of men (usually 6-8), who meet regularly to work towards their goals of personal growth in a safe, supportive, and judgment-free atmosphere. The most important goal of group is to help you learn how to deepen relationships. This is accomplished by understanding what gets in the way of close connections and taking small manageable steps to overcome these barriers.
Types of Therapy Groups
There are three different types of therapy groups:
Psychoeducational groups are structured and instructional. They provide information about a topic or topics of interest (e.g., Dialectical Behavior Therapy Skills group for Substance Use Disorders).
Support groups are less structured than psychoeducational groups and provide an opportunity for group members with similar concerns to share and receive feedback and/or advice (e.g., Alcoholics Anonymous). Support groups may be time-limited or ongoing for an unlimited amount of time.
Process groups, the least structured type of group among the three, helps individuals explore the inner workings of their mind through relationships with other group members and an opportunity learn about how others experience them. Process groups serve to teach individuals what advances closeness in relationships and what does not.
Dr. Çek's Men's Group
The Men's Circle Group in San Diego is a combination of the psychoeducational and process group. Sessions are semi-structured but flexible. Some groups have a specific men's health topic, such as communication, anger, or intimacy. The information that I provide on these topics is practical, helpful and lends itself to a thoughtful discussion afterwards. As the discussion deepens, we move towards a more process-like approach where group members practice attending to their experience of the group dynamic/process in addition to the content. Group members are encouraged to share their experiences with one another so everyone can benefit. This process provides an opportunity for individuals to share and receive feedback about how they are perceived by others.
This group is ideal for active and stable men who have a desire to learn more about themselves, deepen relationships and improve emotional intimacy.
The group provides a unique experience for men to engage with others and practice new skills in an environment that requires less precision. I am committed to providing a safe space free of judgment and criticism for you to explore yourself and how you relate to others.
Benefits of Joining the Men's Group
Mental health is an important, yet oftentimes overlooked part of our overall health. Men in our society have little opportunity to explore aspects of themselves for the purpose of personal growth and development. This can lead to feelings of isolation and loneliness, frustration and anger, lack of fulfilment in life, and strained interpersonal relationships.
If you are interested in personal growth, joining a men's group may be a helpful addition to your individual therapy, exercise regimen, or other activities you participate in for self-care.
Joining the men's group will provide you with:
An outlet that promotes honesty, authenticity, and support
Dedicated time and nonjudgmental space to get things off your chest
A place to share your goals and hold yourself accountable
An opportunity to connect with men who hold similar values as you
Information about how others experience you
Improved stress management skills
More effective communication skills
More awareness about healthier relationships
FAQs:
1. When does the men's group meet?
The men's group runs in 12-session cycles via teletherapy. A cycle begins once we have 6-8 individuals committed to the group. The day and time of the group is determined based on group members' availability.
2. Do I need to commit to all 12 sessions?
You will get the most out of the group if you attend all 12 sessions.
3. Is this a closed group?
Yes. Once we start a 12-week cycle, the group is closed. New members need to wait until the next group cycle.
4. What is the cost of group therapy?
If your insurance plan covers group therapy, you will be responsible for your co-payment. If you are paying out of pocket, the cost is $50 per session.
5. How do I obtain more information?
You may schedule a 15-minute consultation with me, free of charge, to obtain more information and see if this may be a good opportunity for you. Please contact us to schedule your consultation. I look forward to meeting you.
If you, or someone you know, could benefit from participating in the Men's Group at Therapy Changes, don't wait any longer to give it a try. Getting outside of your comfort zone isn't easy, but it is worth it. Contact us now for more information, or to learn more about services at Therapy Changes.