Caps Off to the Class of 2020!
By: Kamaljit "Sonya" Virdi, Ph.D. | May 29, 2020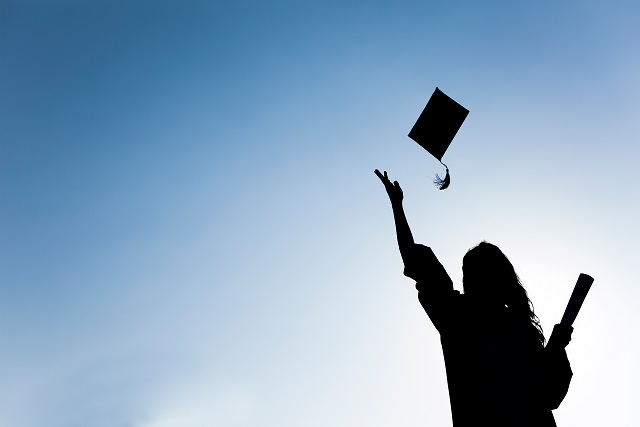 A round of congratulations goes to the graduating college class of 2020!
Besides achievement, a typical senior year is characterized by mixed feelings of anxiety and excitement as you approach life's next chapter. However, the coronavirus pandemic created its own unique set of challenges for 2020 graduates. I can imagine distance learning and staying indoors did not play out as you imagined your sendoff to college, not to mention no opportunity to say goodbye to your close friends and inspiring professors in person. In other words, the end of your academic journey feels anticlimactic.
As you may have noticed, the majority of articles written about your graduating class discuss the challenges you have and will continue to face as you seek employment. To help you through this transitional period, I propose the following six strategies.
Celebrate
Celebrate and then celebrate some more! Find your own way to celebrate yourself. Have a virtual hangout with friends and family with handmade decorations (yes, you have the time to make them now). For local friends and family, consider a small gathering outdoors while adhering to social distancing guidelines.
Reflect
Gratefully reflect on your academic journey. Consider where you started and the obstacles you overcame in the past 4 or more years. Note, for example, whether you continued your family's higher-education legacy or whether you are the first person in your family to graduate from college. Consider whether you worked two jobs to buy books or pay tuition, immersed yourself in extracurricular activities to create an impressive resume, or struggled academically yet persevered. Whatever your journey, each of you had the persistence to continue to this point and achieved your goal. Remember and honor those who supported and inspired you. Write a thank you letter to each of them for being there for you.
Avoid comparisons
Avoid comparing yourself to others. Context matters. You may have a friend or acquaintance lucky enough to have a job offer but do not let this person's success impact feelings about yourself. Recognize that many of this year's college graduates have not secured a job and millions of Americans remain unemployed or underemployed. In a time of social distancing and isolation, feeling alone occurs with an ease it does not deserve. For example, you might think "Why did this happen to me during my senior year?" then spiral into negative self-talk. Keep in mind that the 2020 cohort includes not only your university but also all the universities in the country and the world.
Take a break
Take a real break. Four or more long years have gone by to get to this point. Before you contemplate next steps, recognize that variables outside of your control exist right now. Allow yourself to live in the present and do more of what you enjoy. Examples include playing an instrument, painting a picture, even binge watching your favorite TV show. Contacting friends or spending time with family are other ways to unwind. Whatever you do, do it guilt free to ensure it constitutes an actual break.
Get help
Find a mentor. Ask for help. Create a LinkedIn profile. Connect or re-engage with people in your network and ask them how to continue building your professional skills off your college education. During this pandemic, people may help and support more than you might expect.
Inspire
Crisis constitutes the perfect time to inspire others as well as yourself. While you may remain jobless, opportunities to donate your time and skills do exist. Contact your local non-profit organizations to offer help considering your technical or interpersonal skills. Create awareness through social media to spread the word about organizations that may need resources or support. Your mental health improves when you contribute to society in a meaningful way. When you stay positive and create your own purpose, new opportunities inevitably appear.
I hope these strategies help you navigate this unique transitional period from college to beyond. If you need additional support or find difficulty adjusting to these uncertain times, please contact us at Therapy Changes. In adjustment to COVID-19, we offer 100% teletherapy services to make it easy to access services without leaving your home.
For now, congratulations and best of luck for your future!