By: Rochelle Perper, Ph.D. | July 25, 2019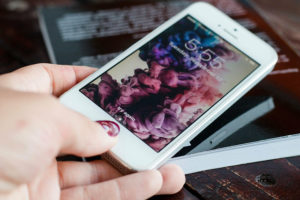 How mindfulness apps can help and which ones to try
How many of you have heard of the benefits of meditation and mindfulness? How many of you have heard of the benefits but don't know what to do or where to start? Good news – there's an app for that!
"App," an abbreviation for "application," refers to a piece of software that can run on your computer, smartphone, tablet, or other electronic devices including smart TVs and smartwatches.
Meditation and mindfulness practices are powerful and well established techniques to reduce stress and improve overall physical and emotional well-being.
Mindfulness is the practice of purposely focusing your attention on the present moment while accepting it without judgment. Examined scientifically, mindfulness is found to be key in stress reduction and overall happiness (Zeidan, 2019). Mindfulness includes breathing techniques, guided meditations, and using imagery to enhance your senses.
Together, mindfulness and meditation apps can be run not only online from your electronic devices but also offline, meaning they do not require an internet connection. With the advent of apps, the practice of meditation and mindfulness is easier to use and more convenient than ever.
Do Mindfulness Apps Work?
Research investigating the effectiveness of mindfulness apps began only about four years ago and is still somewhat limited. Although the findings are not as conclusive as app marketers might have you believe, results are promising and suggest you should at least consider giving one a try.
A 2018 study (Martman, Bell & Sanderson, 2018) showed that meditation app users experienced more positive emotions and were less burdened by external demands, responsibilities, and pressures compared to those who listened to audiobooks.
In a study that compared the use of a mindfulness app to traditional in-person mindfulness classes found that those who used the app experienced higher levels of awareness, did not overreact to their thoughts and feelings, and had less burnout and caregiver fatigue (Wylde, et al., 2017).
When meditation apps were compared to other apps like brain-training apps, those who used the meditation app had better attention, more positive emotions, lower levels of depression, and were kinder and less aggressive. Further, those who used meditation apps were more mindful and had improved quality of life four months later (Newman, 2018).
Another 2018 study (Lindsay, E., et al., 2018) showed that a brief two-week mindfulness training app changed participants' biological responses to stress, as evidenced by lower systolic blood pressure during a stressful task and lower cortisol (stress hormone) levels afterward. The researchers further found that learning the concept of acceptance was the specific factor that accounted for this result.
Acceptance is the key element in mindfulness that teaches us how to disengage from difficult experiences and move away from judgment. Acceptance does not mean agreement or approval, contrary to popular belief. Rather, acceptance is the acknowledgement of what is. It is the gentle, nurturing attitude we cultivate towards ourselves.
The Top Mindfulness Apps of 2019
Literally hundreds of meditation and mindfulness-based apps are available. A recent Healthline article (Timmons, 2019) lists the apps below as the best of 2019 based on quality, reliability, and 4- or 5-star reviews. You can download one onto your iPhone from Apple Store or Android from Google Play to start learning the art of relaxation right away!
The Mindfulness App
The Mindfulness App is free with optional in-app purchases. The app offers an 'Introduction to Mindfulness' series, a 5-day guided practice that includes your choice of guided or silent meditations ranging from 3 to 30 minutes. The app also features personalized meditations, reminders throughout the day, and statistics to track your progress.
Headspace
Headspace is free with optional in-app purchases. The app features guided meditation and mindfulness techniques for daytime, and nighttime use. For bedtime, try any of the app's sleep music tracks or 16 nature soundscapes. The app teaches the essentials of meditation upon which you can build a personalized plan.
Calm
Calm is free with optional in-app purchases. The app offers a wide variety of relaxation meditations, mindfulness and breathing techniques, as well as a Sleep Stories section to help lull you to sleep. In addition, Calm has a Calm Kids section that includes meditations for kids ages 3 to 17.
buddhify
This app is $4.99 for iPhone users, and $2.99 for Android users. With more than 200 meditations, this app teaches you how to reduce anxiety and stress, promote sleep, and manage difficult emotions. Mindfulness exercises are organized by categories such as traveling, work, waking up, or eating and more. Sessions range from 3 to 40 minutes, making it easy to integrate mindfulness into your busy lifestyle.
Sattva
Sattva is free with optional in-app purchases. This app draws from a philosophy of meditation called Vedic, one of the oldest and most natural forms of meditation. It is practiced for 20 minutes while sitting comfortably with your eyes closed. Meditations include chants and mantras. Meditations begin at 6 minutes. You can set goals to slowly extend your practice with tracking features to monitor your progress.
Stop, Breathe & Think
This app is free with optional in-app purchases. Meditation options are based on your emotions. You can use the app to help identify how you are feeling, then learn strategies to move through a difficult emotional state. Stop, Breathe & Think also includes yoga and acupressure videos. You can track your mood and meditation progress with this app.
Insight Timer
Insight timer is free with optional in-app purchases. This app has thousands of meditation options (at least 10 of which are free). The app also includes music tracks and ambient sounds to help calm your mind and promote sleep. You can even join a discussion group with this app.
10% Happier
This app is free with optional in-app purchases. If you are a skeptic, or have a tough time sticking with something new, this app is for you. New content is added weekly to keep you engaged and includes daily videos and guided meditations that teach you the simplest ways to practice mindfulness and cope with everyday stressors.
Breethe
Breethe is free with optional in-app purchases. With this app, you can learn how to de-stress and sleep better in just 5 minutes a day with a personal mindfulness coach. The app includes guided meditations, inspirational talks, and master classes. The app also includes sleep music playlists, nature sounds, and bedtime readings.
Omvana
Omvana is free with optional in-app purchases. This app is designed to act as a personal meditation and mindfulness teacher. The app offers guided meditation for all aspects of your life. Meditations range from 3 to 60 minutes and can be tailored to your stress level at any given time.
Simple Habit
Simple Habit is free with optional in-app purchases. This app was created to offer stress relief for busy people. Your commitment is just 5 minutes a day, and includes an On-the-Go feature which teaches you how to quickly calm your nerves and improve mindfulness.
Meditation and Relaxation Pro
This app is free with optional in-app purchases. This meditation and relaxation app offers guided meditations with simple and effective techniques. The format is intuitive and easy to follow so you can relieve stress, focus better, sleep more soundly, and boost your self-esteem.
Which app should I try?
There's no single best app for everyone. It may be helpful to try a self-guided app first, but if you don't click with it, then try another app on the list until you've found one that resonates with you. Even with an app, mindfulness takes practice. Like playing an instrument or a sport, the more you practice the better you get, and the more you get out of it. Make it a goal to practice 5 to 10 minutes each day. Then you can grow from there.
Cultivating mindfulness practices combined with professional therapy from a licensed Clinical Psychologist will increase your happiness and peacefulness, reduce your depression and anxiety, and help you to better manage stress. Go ahead. Try something new. You'll be glad you did!
References:
Lindsay, E.K., Young, S., Brown, K.W., & Creswell, J.D. (2018). Acceptance lowers stress
            Reactivity: Dismantling mindfulness training in a randomized controlled trial.
Psychoneuroendrocrinology, in press.
Martman, J., Bell, M.J., Sanderson, B. (2018). Improvements in Stress, Affect, and
            Irritability Following Brief Use of a Mindfulness-based Smartphone App: A Randomized
            Controlled Trial. Mindfulness, 9, pp. 1584-1593.
Newman, K. (2018, June 19). Do Mindfulness Apps Work? Retrieved from
Timmons, J. (2019, April 23). The best meditation apps of 2019. Retrieved from
Wylde, C.M., Mahrer, N.E., Meyer, R. M., & Gold, J.I. (2017). Mindfulness for Novice Pediatric
            Nurses: Smartphone Application Versus Traditional Intervention. Journal of Pediatric
            Nursing, V. 36, pp. 205-212.
Zeidan, F. (2019). The neuroscience of mindfulness-based meditation: An integration of science
Resources:
UCSD Center for Mindfulness – Mindfulness Resources
Image: Marco Verch Professional Photography and Speaker on flickr and reproduced under Creative Commons 2.0