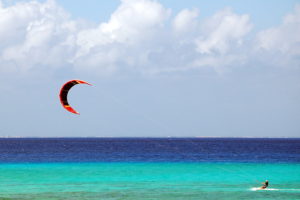 Written by John Mark Krejci, Ph.D.
Experts say it takes about 10 years to master a skill. Given that, I have gained relative expertise in the field of psychology, but in the sport of kiteboarding, it took ten years for me to be a total beginner!
If you don't know this sport by name, you probably have seen it. The "cooler" cousin of windsurfing, in kiteboarding you are pulled on a small board by a huge kite that you fly about 100 feet in front of you. Fortunately, I didn't have to constantly fail for a decade to learn this sport; I failed in little bursts over time. I started with two lessons, during which I could barely control the powerful and fastidious kite. Five years later with two more lessons, I was better able to steer the kite, but harnessing its power to pull my body on a board atop the water still seemed impossible.
On one occasion, my unzipped wetsuit came almost completely off my body and my kite ended up in a field of cows! I nearly resigned myself to the possibility that I wasn't meant to kiteboard. A full ten years later I saw another opportunity– in the unlikely place of Lincoln, Nebraska.
Yes, it is possible to kiteboard in the Midwest, as there are many lakes and frequently occurring windy conditions. I was intent on making all the necessary sacrifices to have another try at my dream sport, but there was no kiteboarding school where I lived! Determinedly, I found a patient instructor online, and I drove 900 miles to one of the best spots on the Gulf Coast to learn. Somewhere in those next two lessons, it all came together. The kite pulled me along without my crashing it into the water or me catapulting over the board in what I call "the unintentional Superman."
Kiteboarding in Nebraska proved very difficult, as the "beaches" are small, the winds gusty, and both not ideal for kiteboarding. On one occasion, I was lifted 10 feet in the air on the beach, then drifted 50 feet or so toward some very large trees. After pulling the release, I cut my hand, crashed down hard on the sand, and my kite got stuck in a menacing lakeside tree. As I pulled on the lines to rescue it, I heard "rrrrrippppp," and saw that I had impaled my kite in not one but two places. I thought, "I am the Charlie Brown of kiteboarding."
The story ends happily, however, as I persevered with practice while watching every relevant video available. A wonderful job opportunity at Therapy Changes brought me to San Diego, where I found excellent conditions in which to practice. I realized the struggle in Nebraska was actually to my benefit, as on one gusty, stormy day in San Diego, I successfully kited in what most would deem as nasty no-go conditions! In a city with many kiteboarders, I was the only one out there that day, successfully skimming atop the water. I harnessed the power of the wind while using my knowledge and experience to adjust to its frequent vicissitudes. Neither my kite nor I crashed even once. I was exhilarated! That day, all of the past problems seemed worthwhile. I was a kiteboarder!
Pursuing my kiteboarding passion reminded me of many valuable lessons for life. Some of them may be relevant for you, especially when you might seem to be failing at something more important than a sport or hobby. Reducing anxiety, overcoming grief, trauma, or addiction, or improving your relationships are good examples of those more important things. Valuable lessons came to me from my kiteboarding experience:
Seek professional guidance and commit yourself to the goal.
You often have to fail multiple times to fulfill your dreams. The most fulfilling accomplishments are often the ones that challenge us the most.
Passion, perseverance, and practice pay, and can turn frustrating failure into soul-soaring success.
Image: Jeff on flickr and reproduced under Creative Commons 2.0