Talking to Children About Divorce
By: Rochelle Perper, Ph.D. | June 2, 2017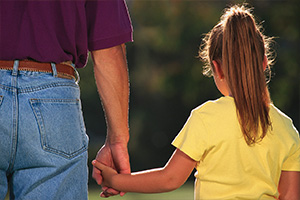 Introduction by Rochelle Perper, Ph.D.
Guest article by Bill Eddy, LCSW, Esq., New Ways for Families
One of the first questions asked by parents who are beginning the divorce process is, "What should we tell the children, and how should we tell them?" Most parents, understandably, have a tough time telling their children about their pending divorce and describing how their lives will be forever changed. This daunting task can generate feelings of guilt, sadness, and regret. Instinctually, parents may want to avoid talking about the divorce altogether in an effort to protect their children from the pain. However, failing to tell children about divorce in a timely manner can leave them feeling hurt, betrayed and even more confused.
Ending a marriage or a long term relationship is painful – even if it's the "right" thing. Children in particular have a difficult time because the news often feels sudden and unexpected. The prospect of a new living arrangement can feel overwhelming and scary and many children will not fully understand the reasons why. For these reasons and more, parents need to be careful when breaking the news.
The information below was prepared by Bill Eddy, LCSW, Esq., Founder of the New Ways for Families program in San Diego, California. This guide is meant to help parents prepare for this very important conversation. For all kids, their parents' message should be clear and simple. It should leave out all the messy details that could lead a child to believe that they need to fix the problem, or that they are the cause of the divorce. Children need to be able to talk about the divorce, be given the opportunity to process their emotions, ask questions, and feel validated and heard. Children at different stages of development will have different levels of understanding about what divorce means, the reasons for it, and what the future will bring. Parents will therefore need to tailor their discussions according to their child's level of maturity.
The most important concept that parents can emphasize to their children is that they will remain safe and loved. To help children through this difficult time of transition and change, parents facing divorce are encouraged to review the information below and develop a plan to approach the conversation in a thoughtful, gentle, and careful manner.
The New Ways Parent-Child Talk
© 2009 Bill Eddy, LCSW, ESQ.
When parents separate, having a talk with your children that includes some or all of the following may be helpful (presented in age-appropriate terms). You can say this separately or jointly to your children. It helps if you agree on when you are going to say this to them, and what details you have agreed upon to tell them.
New ways in different houses: We're going to be organizing our family in new ways from now on. Your mother/father and I are going to be living in different houses and bringing new people into our lives. While we are separating or getting a divorce, we are not separating from you. We will both do everything we can to keep our relationships with you loving and strong. You deserve the best from both of us.
Positive ways with each other: We're going to try to act in positive ways with each other. We're going to encourage you to have a strong relationship with both of us. We're going to avoid comparing ourselves to each other, by saying one of your parents is a better person than the other. We both have made mistakes and I am working on myself to be a better person in my life. And we both have strengths that you can learn from, and I will remind you of your mothers'/father's strengths in case you forget occasionally.
Avoiding extreme behaviors: As we organize your family in new ways, we are going to try to avoid extreme behaviors by using moderate behaviors, because families are hurt by extreme behaviors. If your mother/father does something extreme, I am still going to try to use moderate behaviors. Because one extreme behavior does not deserve another.
Managing our emotions: I am going to try to manage my own emotions as we go through this separation or divorce. You are not responsible for the separation or divorce, and you are not responsible for my feelings. I alone am responsible for how I manage my emotions and for protecting you from my most intense emotions. This will be a hard time and I will not be perfect.
Emotions can be contagious: I understand that emotions can be contagious, so I will try to reassure you that you do not have to have my emotions. You are a separate person and will have your own emotions about this separation or divorce. You should always feel free to talk about your feelings with me and I will respect your feelings, even when they are different from mine. The most important thing is that I will try to do my best to let you continue to be a child while I continue to be a parent.
Flexible thinking: I am going to use flexible thinking in handling our separation or divorce. This means that you can approach me with any ideas about what you and I can do together, and about the new ways our family will be operating. But remember that your mother/father and I will be doing the decision-making. This means I will try to solve problems without getting stuck in all-or-nothing thinking where I only see one solution. There are many ways to make our lives work well together and I will be open-minded.
Rules in both houses: There will still be rules in each of our houses, even though some of the rules will be different. We both expect you to follow the other parent's rules when you are in the other's house.
_________________________________________________
Bill Eddy is a lawyer, mediator and clinical social worker and the President of the High Conflict Institute. He is the author of several books including The Future of Family Court: Structure, Skills and Less Stress, Splitting: Protecting Yourself While Divorcing Someone with Borderline or Narcissistic Personality Disorder and High Conflict People in Legal Disputes, 2nd ed. He is also the developer of the New Ways for Families® method of teaching skills to family systems (both parents and the children) and New Ways for Mediation℠ for managing potentially high-conflict families in mediation. Read more at www.HighConflictInstitute.com and www.NewWays4Families.com.
Image: together on flickr and reproduced under Creative Commons 2.0