By: Other | April 21, 2017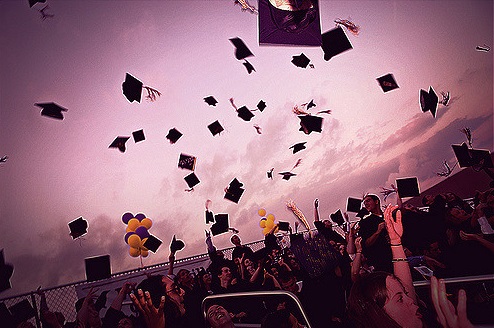 Written by Amanda Baba, Intern
As a senior undergraduate student at the University of San Diego, I find myself counting the months until graduation. As excitement escalates, the nerves set in and the question "What next?" keeps coming up. That question comes also from family, friends — even strangers — on a weekly basis.
Should I go to grad school? Should I get a job, start my career? Should I take a year off? Would I ever go back if I take time off? Maybe I should travel. Such questions run through my mind when deciding what to do after college. Although my mind seems made up on what I'll do, it's not as easy for other seniors. Common belief has it that seniors have their futures planned by graduation. Because that belief is not true for all college seniors, I offer some ways to aid the transition to life after graduation.
Utilize Resources on Campus
Colleges have counseling centers that often provide workshops about graduation and ideas on what comes next. If your college does not provide workshops, other resources such as advisors and professors can assist.
Counselors/Advisors: Every college student has one, although many students do not take advantage of the knowledge and information the counseling center and its advisors can provide. Simply make an appointment with a counselor and you will be one step closer to determining your future.
Professors: Being at a private university, I enjoy class sizes that are very small. Professors are on a first-name basis with students. Because it may not be like that at all colleges, professors offer office hours to provide one-on-one or small group help. This is a time when you may talk with any professor, whether your own or one who works in your field of interest. More often than not, they are open to offer a helping hand.
Going to Grad School vs. Beginning Your Career
You may or may not NEED to go to grad school. It depends on your major as well as your chosen career path. As someone studying Psychology with focus on marriage and family therapy, I need to attend a Master's program to qualify for that line of work as opposed to someone studying business, where a Master's degree may be nice but not a requirement.
What if I must go to grad school but don't want to start right away?: Some students want to attend grad school after graduation but feel that they need a break from studying. There is nothing wrong with taking a semester or a year off before going on to pursue your dream. Knowledge gained from the real world is something that cannot be taught in the classroom.
I want a job; I'm done with school and homework: Those discontinuing school to begin their careers but are inexperienced in job searching should consult the Internet, which contains a wide variety of postings regarding open positions. Some colleges even offer job fairs wherein business owners or employees visit schools to recruit students or scout out prospects for future employment.
Creating a Plan
The last step for a successful future is creating a plan. After deciding what you want to do after college, make a plan, set dates, and stick to it as much as possible. Of course, not everything may work out the way you planned, but having a pathway about how to achieve milestones in the plan is an effective way to reach your goal.
Create a list of steps in the order you hope to accomplish them: Creating a list of realistic expectations can boost the prospects of reaching your desired future. Start off with small, simple items to accomplish, then aim for larger, more complicated achievements. Accomplishing smaller items and crossing them off your list will motivate you with even more determination to achieve the larger items on your list.
Create a vision board: Vision boards have proven useful in helping people to achieve a certain goal in life. A vision board helps you stick to your plan. It envisions who you want to be in life or what you seek to accomplish. It's also fun and a creative way to calendar a timeline for your future.
Not everyone will figure out what to do with their lives right out of college. It will be hard and take time. However, with proper planning and tools, it will all come together in the future you have created for yourself.
"There is nothing more beautiful than finding your course as you believe you bob aimlessly in the current. And wouldn't you know that your path was there all along, waiting for you to knock, waiting for you to become. This path does not belong to your parents, your teachers, your leaders, or your lovers. Your path is your character defining itself more and more every day."
Jodie Foster
Image: Mitchell Joyce on flickr and reproduced under Creative Commons 2.0