The Importance of Instilling Values
By: Rochelle Perper, Ph.D. | November 9, 2015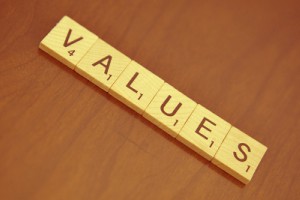 Recently the team at Therapy Changes participated in a half-day workshop facilitated by Dr. Sherry Nooravi at Strategy Meets Performance. The topic of this workshop was developing "Company Values." You may have heard of this trend in larger corporations like Whole Foods and Zappos. Successful and innovative companies like these are realizing the importance of defining their values to shape the company culture. Defining company values helps inform all aspects of decision making including hiring, setting goals and developing marketing strategy.
As a Psychologist and life-long learner of all things humanistic, I understand the significance of having a well-established set of values to operate within. I speak to my clients about this and encourage others to think about the principles that guide them. In fact, our very own Dr. Karin Thebus recently wrote an article on the benefits of knowing our values to lead a more fulfilled life. The piece that I didn't pay as much attention to – until recently – was the importance of defining our values as a company.
Therapy Changes has been developing a company culture of compassion and care since our doors opened in 2011. More recently, as the company has grown, so has our diversity and variety of viewpoints. The opportunity to come together as a team with Dr. Nooravi helped us all feel more connected and focused on our mission to provide professional care, comfort and support, so our clients feel empowered to make positive change in their lives.
The following values were identified by Therapy Changes as the principles that guide our interactions with each other, our clients and our community:
Compassionate
We are respectful, thoughtful and give personalized, empathetic care
Authentic
We are genuine, trustworthy, transparent and professional; we create meaningful connections and demonstrate integrity
Empowering
We help create strength and balance; we collaboratively inspire and facilitate change, innovation and growth
Interconnected
We are inviting and create belonging and being part of a community; we welcome diversity of lifestyle, beliefs, thoughts and personalities
Welcoming to Possibilities
We are flexible, embrace growth, and aim to be open-minded, accepting and action oriented
We believe that in order to be effective at facilitating change in our client's lives, we must first be committed to sustainable positive change and growth from within. Thus, the team at Therapy Changes will reinforce these values by modeling them with each other, our clients, our families and our community. We will take time to understand each other's definitions of these values, view differences as opportunities for growth, and find ways to encourage and inspire one another to use these values.
We welcome feedback about how we're doing, and ways that we can continue to provide the quality and individual care that we strive to offer each and every day. Thank you for being a part of the Therapy Changes family.