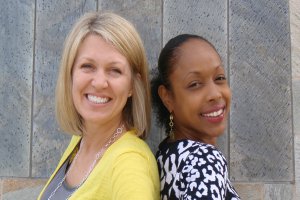 You may have noticed two new faces at the Therapy Changes offices. These two lovely ladies are the new additions to our team, Lisa Fune and Monique Williams.
Lisa Fune is an integral part of delivering quality care to clients as the Client Care Director at Therapy Changes. Lisa is an enthusiastic and detail oriented professional with over 10 years of experience in the medical field and over 20 years in client relations. Lisa's duties include administrative support, fulfilling client expectations and keeping the Psychologists functioning optimally. Lisa's primary priority is to create a smooth transition for clients and families, particularly those who are coming to therapy for the first time. Lisa will answer your questions and help match you with the right therapist to fit your needs – based on specialty, location and insurance preferences. In addition, Lisa provides support for Therapy Changes business operations through coordinating and planning community outreach, consulting functions and other special projects. Lisa works closely with the Psychologists to support leadership in the community while devoting as much time as possible to clients.
Monique Williams is a vital part of the Therapy Changes team as Billing Operations Manager. She ensures that all billing processes run smoothly and efficiently, while also maintaining a sense of compassion and understanding. She provides clear and easy to understand information about billing and takes the hassle out of communicating with insurance companies. She is very detail-oriented and knowledgeable about the different procedures each insurance company utilizes and can answer most any question you may have about your outpatient mental health coverage.
Both Lisa and Monique originated from southern California; Lisa attended college at Chico State and ended up residing in northern California for 23 years while she and her husband raised a family. During her time in northern California, Lisa owned and operated two successful businesses and eventually found her passion in health care. Starting in direct patient care, Lisa rapidly moved into various leadership roles at Enloe Medical Center and dedicated her career to improving the quality of life through patient-centered care and meaningful community outreach. Lisa is compassionate and trustworthy with the ability to convey and receive sensitive information effectively, providing empathy and reassurance to those with whom she communicates.
Monique's adventurous spirit has taken her to Jamaica, Dominican Republic and the Bahamas. However, as a native San Diegan, her hometown is where the heart is. Monique obtained her B.A at California State University and her A.A in Language Arts & Humanities (Spanish language) at San Diego Mesa College. Both her education, onsite training and over four years of experience in the field of medical billing has created the foundation for her knowledge of submitting claims, invoicing and accounts receivable. Monique's interpersonal style, combined with her knowledge of the industry can help you relax knowing that your billing is being taken care of. This peace of mind will allow you to focus on other important things – like feeling more like you again.
You can count on both Lisa and Monique to greet you with a warm smile and to answer all of your questions with patience and grace. Lisa and Monique's focus on client comfort and effortless office visits help the Therapy Changes team uphold our strong commitment to high quality care.
Both Lisa and Monique manage the business office Monday through Fridays from 8 a.m. to 4 p.m. Please join us in welcoming Lisa Fune and Monique Williams to the Therapy Changes family!