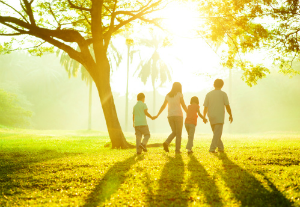 "Do good unto the world and thus you do good unto yourself."
– F. Figueroa
It was about five in the morning and the cold, crisp air was hitting our faces as we ventured out on a foot safari on the fields of Kruger National Park, South Africa. The rustling of the grass beneath our feet, the singing of the birds in the background, the stillness of the air, and the soft light of the sun peeping from behind the vast horizon. It was then that I realized this was exactly what anyone would need to restore balance, to restore perspective, and to restore mental healing!
Eco-psychology is a branch of psychology that focuses on the connection of human beings with the natural world. The psychological principles lie within the belief that an emotional connection between individuals and the natural world will bring about balance and mental healing. Developing more sustainable lifestyles and becoming more attuned to nature will increase positive emotional fulfillment!
Have you ever gone to a trip where you travel somewhere where there is nature and come back refreshed and feeling like the world is a much bigger place than you imagined? The main premise behind eco-psychology is while the human being operates in a post-modern world, there is an evolutionary pull towards adapting to the constant dynamic changes in the natural environment. The human being has this innate need to connect emotionally with nature!
Research within this field has developed several practical principles. They state that an individual's connection to nature can improve interpersonal relationships and emotional wellbeing. The main goal of this field is to encourage individuals to stop isolating in the sterile and unmoving environments such as office buildings and encourage them to venture outdoors. There are valid reasons to start embracing nature. It provides the senses with a variety of sounds and smells. It provides a sense of harmony, balance, timelessness, and stability!
So, next time you find yourself feeling tired at the office, take a walk around the block or go to your nearest park during lunchtime. If you are due for a vacation, think about spots that get you in touch with nature. Contact with the outdoors will restore your sensory and information-processing abilities. This is what has developed over the course of human evolution. Your mind naturally needs contact with the outside…and so does your heart.