By: Michael Toohey, Psy.D. | June 2, 2023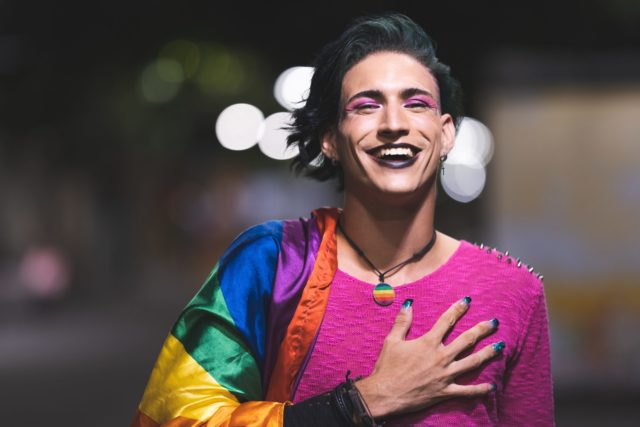 It's that time of year—National LGBTQ+ Pride Month! Every year, during the month of June, the LGBTQ+ community recognizes the influence that LGBTQ+ people and allies have around the world by celebrating in a number of different ways. And this year, I'm celebrating Drag!
For me, drag is fun, creative, and playful, which is how I like to celebrate Pride. Anyone can do drag, and if you really think about what drag is—playing a character or version of yourself—it's not all that different from the different 'characters' we play each day: spouse, parent, employee.
When we create an image that we present to the world, whether it is who we are, what we feel, or what we aspire to be, we are in drag.
Why do Drag?
At its core, drag can give us a voice, courage, and confidence. We can use it to explore facets of ourselves, whether it's sexual orientation, gender expression, or identity. It can also help us explore our creative side, such as Beyonce's Sasha Fierce persona, or Garth Brooks' Chris Gaines persona. Drag can help us manage anxiety, build resilience, and increase self-esteem.
Drag culture provides a sense of community. Drag houses are families that we choose when our families of origin have rejected us. Drag mothers and fathers often provide food and shelter to frightened LGBTQ+ teens who have nowhere else to go.
Where Drag Comes From
Drag is a powerful symbol in the LGBTQ+ community. Drag queens and trans folks started the modern Pride movement in 1969. During the HIV and AIDS epidemic, drag competitions and performances across the country raised awareness and money for research and treatment. Drag queens and kings also provided needed comfort, community, and encouragement during a time when many were dying. Research on the emotional and psychological experience of drag indicates positive benefits for performers. All the drag queens and kings I've ever known are entertainers at heart.
Drag gives us a sense of status, self-affirmation, resilience, and empowerment.
Drag is for Everyone!
While drag holds the power to push boundaries, provide healing and support, it also reminds us to have fun along the way. While it is more commonly performed by members of the LGBTQ+ community, drag is gradually blending into mainstream society. How it continues to evolve will be a story only time can tell.
Want to have a different experience of yourself? This Pride season, find a wig, a frock, and some heals, get your face made up, and head out to Pride and watch what happens. Chances are you will be met with joy.
Be open to see how drag affects your sense of self:
Did you learn something new about yourself?
Did you feel freer?
Did you become loud and proud?
Did you find a voice you didn't know you had?
The team at Therapy Changes celebrates inclusivity, wellness, and creativity. Working with a San Diego psychologist can help you find the truest, authentic version of yourself. And, if you happen to end up looking fabulous along the way, that's a bonus!
Contact us today to learn more about how therapy can help and to schedule an appointment.