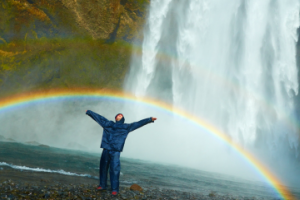 This is the time of year when we all begin to think about those things we want to change with the New Year. Some of those we can do without assistance, others may involve outside support from others such as a therapist. So, if one of yours, or a friend's New Year's resolutions is to "finally" address some emotional/mental health concerns here are some things to consider in choosing the right therapist.
Psychology Today recently published an article, written by David N. Elkins, Ph.D., presenting myths and considerations when selecting a therapist. The following outlines the most common myths that individuals use to guide their decision-making when selecting a therapist.
Myth #1:
A "good" therapist attended a highly rated university. Not necessarily. Training is important but doesn't guarantee a therapist will be effective. Becoming an effective therapist is a combination of training and interpersonal expertise.
Myth #2:
The "best" therapist will have a doctoral degree. Degrees are important, as well as other credentials. However, they are not the main criteria; there are many Masters level therapists who provide highly effective skills.
Myth #3:
If the therapist has published scholarly books or journal articles they must be effective. Being a prolific writer and researcher does not always make for an effective therapist, although writing is a way to stay current in the field.
Myth #4:
Effective therapists use only "evidence based/scientifically validated" techniques. Evidenced-based therapy is important to consider, however, the therapeutic process is comprised of the relationship between client and therapist and interpersonal skills which make for a dynamic, individually based approach to helping.
The article goes on to clarify that research has shown that there are 5 areas of consideration critical to selecting an effective therapist. To frame those areas it is first important to understand that the therapeutic process is comprised of human and relational elements which determine "best fit" between clinician and client. An effective therapist is someone knowledgeable in their field, warm, caring, empathic, and who can develop a relationship that supports the growing/healing process. The following is excerpted and annotated from the Psychology Today article:
An effective therapist begins by focusing on the personal and cultural needs of the client to determine the best therapeutic approach. Therapists who are attuned to the latest research do not impose their particular brand on clients. Instead, they begin by talking with the client to determine, in a collaborative way, the type of approach that best fits the client's needs. Clients feel listened to and understood in this process.
An effective therapist gathers routine feedback from clients relative to how the client feels about the therapy and the therapist. In other words, instead of being "therapist-centered," effective therapists are "client-centered." The client is regarded as a partner who knows, better than the therapist, whether therapy is working.
An effective therapist is interpersonally sensitive and skilled. Effective therapists listen. They extend empathy, acceptance, and care in ways that are emotionally and cognitively healing.
An effective therapist is culturally aware and realizes that every relational encounter is, in a sense, a multicultural encounter.  Cultural awareness extends beyond race, ethnicity, or gender; it includes other components such as religious/spiritual practices, sexual orientation, generational nuances, or geographical norms, to name a few.  Effective therapists have cultural humility and are open to learning from their clients.
An effective therapist supports and activates the internal potentials of the client. In other words, effective therapists do not take away the client's power by insisting that "doctor knows best." Instead, they realize that the client's own potentials are the center of effective therapy and they do everything possible to support and activate those self-healing potentials.
So, as you move forward with the holiday season, tending to everyone else and putting your own needs on "hold until after the new year", tuck this article somewhere where you will easily find it and follow-through on your New Year's resolution to take care of yourself.  Interview a few therapists; seek out those that provide the "best fit" to your needs, personality and core strengths. It is one of the most important decisions you'll make, and you deserve the best!
Photo credit: Moyan_Brenn via Foter.com / CC BY