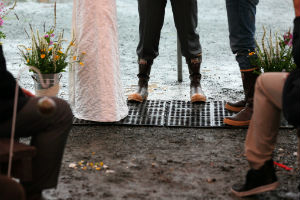 Recently I had the privilege of traveling to Alaska for my very first "Extra Tuff Wedding". Extra Tuffs, for those of us in the lower 48, are the footwear of choice for South East Alaskan natives. The big brown boots are clunky, rubber and not very attractive at first glance – but to those who "get it" understand their significance. They are not only practical in wet climates but they are a symbol for those who work hard, know how to get dirty, and have fun! When asked why she wore her Extra Tuffs with her wedding dress, the bride answered "Because it's who we are". I got it.
When my husband and I were planning our wedding I knew I wanted something different – something that represented who we are and what was meaningful to us. So, we got married in March on the top of a ski slope in Colorado. Like the Alaskan bride, we decided to do something that represented who we are as a couple and share that part of our lives with our closest family and friends.
Now more so than ever couples across the country are opting for alternatives to the traditional wedding experience. If you have been to a wedding lately, you might have noticed this trend. Don't expect to see a bouquet and garter toss on the agenda, or traditions like the "money dance." Instead, couples are choosing desert tables instead of cake, lawn games instead of dancing, and home brewed beer instead of champagne.
If you are planning your upcoming nuptials, these tips can help you create your very own "one-of-a-kind" wedding without all the pomp and circumstance:
1. Find what is meaningful to you. Whether it's picking a theme, choosing a venue, or deciding on the menu, make sure that your selections are in-line with your values as a couple. If you and your partner are laid back and relaxed, you won't necessarily want a loud DJ or a large ceremony. Decisions that are made for someone else – and not based on who you are will leave you feeling uncomfortable on your wedding day.
2. Communicate your desires with your family. Once you have decided what is meaningful to you, start talking openly and honestly with your family. Start by sitting key family members down as a couple and talk about your ideas and why they are important to you. Be open and willing to hear other's opinions. Know that there may be some aspects of the wedding that you will have to be flexible with. Talk with your partner beforehand about the key elements that you are not willing to compromise.
3. Think of your guests and offer alternatives. My husband and I knew that the slogan "If you can't ski you can't come" would not go over well with our non-skiing guests. Remember that your guests want to be there to celebrate you. By making some concessions to allow them to celebrate this special moment in your life, you will ultimately feel more joy and meaning on your special day.
4. Get creative! Have fun and think outside of the box. You don't have to do something over-the-top to make your wedding our own. Try thinking of incorporating small elements that are unique to you. For example, have fun with color, play your favorite song, use a beloved quote in the ceremony, or wear a piece of family jewelry.
No one said that planning a wedding was easy. But, it shouldn't be painful and excessively stressful, either. Make sure that you and your spouse are taking time away from wedding planning to focus on each other and on the things that bring your joy and happiness. Remember, this is your day and with the right kind of planning, preparation, and communication you will enjoy one of the most special days of your life.