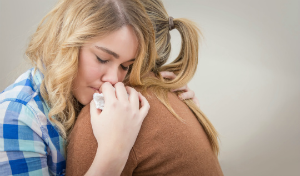 The phrase "Hope Loves Company" has been used by Dr. Ken Druck at the Jenna Druck Center. The meaning behind this phrase is that by coming together in times of loss, grieving individuals can gain strength and find hope from one another. For many, the experience of a loss by death is very isolating.
Friends and family can only offer so much support and soon condolences and pleasantries lack meaning. It is common to say to yourself: "No one gets it" or "They just don't understand." The harsh reality is that unless someone has experienced a major loss, they can't truly understand what it is that you are going through. For this reason, and many others, bereavement support groups were created.
Bereavement support groups, like the Hope After Loss program at Therapy Changes specializes in helping people with similar experiences gain support and encouragement from each other during their journey. This safe and supportive group is professionally-led and carefully designed to educate members about grief and provide tools and techniques to help navigate through life after a loss.
Five Tenants of the Hope After Loss program:
Grief is an unavoidable and natural part of what we go through following the loss of a loved one
There is no one right way to grieve; we respect the uniqueness of each individual and the unique relationship that they had with their loved one
The experience of being with others to listen with your heart, to be open, authentic, caring and accepting is an important aspect of recovery
There is hope following loss and ways that you can learn to take care of yourself during this difficult time
You are not alone
We primarily live in a "get over it" and "move on society." Societal influences often encourage us to deny, repress or avoid grief. Therapy Changes recognizes the importance of having the time and space to "go through" grief. Our therapists specialize in assisting members express difficult emotions in a healthy way at their own pace and in their own way.
Support Group is not intended to be a "be all, end all" or an "instant cure." Some individuals come to group as a complement to their daily self-care routine, individual therapy, reading, exercise and/or other forms of support. Working towards balance and stability in your life often requires many tools. Each group meeting is a single page in a long book. Be patient with yourself as you navigate the path of self-discovery, with all of its hills and valleys. Healing takes as long as it takes. Progress can be slow and uneven. And, often we are doing better than we think. Please be gentle and patient with yourself.