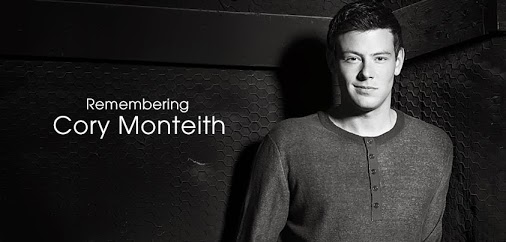 Grief is in the news this week with the death of 31-year old 'Glee' actor Cory Monteith who passed away Saturday, July 13th of an overdose of heroin and alcohol. The Canadian-born actor, who played Finn Hudson on the Fox TV series about a high school glee club, has touched thousands of lives with his fun-loving attitude and authentic, easy smile. This heartbreaking tragedy will touch us all in some way, whether or not we are fans of the show.
The experience of a loss in the public media is a shared experience with people that we know and with those that we may never be able to know. When stars like Michael Jackson, Whitney Houston, or Cory Monteith die, the grief we feel is personal even though they are not a member of our family or a close friend. The reason the pain we feel is so real is because of what this person has represented to us and what this person has meant to us over the years.  Those who have died in the public media could have been our child, our sister, our brother, or our friend.  For example, on the show 'Glee' we have watched the events of Finn's life unfold on our television sets each week. We have vicariously experienced his struggles and embarrassments, enjoyed his triumphs, seen him grow up, and felt touched to see his love blossom.
For those who have experienced a personal loss are likely to feel the grief of Cory's death more than those who have not. For these individuals, Cory's death is not only a reminder of the loss itself, but also a reminder that nothing is going to be the same anymore. I have heard people describe television shows as the thing that helped them through depression or cope with feelings of grief. To these individuals, a public loss like this can feel devastating.
Below are some suggestions on how to cope with the death of Cory Monteith or others who are in the public media:
Determine what he represented to you
The character Finn Hudson was a high school football player who put his status and popularity at risk to join the glee club and its outcast members. This kind of bravery and character is something that might remind you of a time when you have had to go against popular opinion in order to stay true to who you are and what you love to do. Cory himself had a great story that paralleled his role as Finn.  Before becoming an actor, Cory worked as a Mal-Mart greeter as well as taxicab driver, school bus driver, and roofer. His big break came when he submitted an audition tape to the 'Glee' producers in LA and the raced straight down the Pacific Coast in his car from Vancouver when he was invited to meet them in person. Taking the time to pinpoint what it is about Cory, or his character Finn that is most powerful to you will help you understand more clearly what his death means to you personally.
Be aware
Cory talked openly about his struggles with addiction that he had suffered from ever since he was a teenager. Many of us have had similar struggles and may still be tempted to numb the pain through drugs or alcohol. Be aware – addiction is a serious situation and help is available. Consider reaching out to help someone you know who could be at risk and seek healthy alternative ways to cope for yourself.
Find meaning
Remember who Cory was and what he stood for in your heart and cherish it. One of the best ways to honor Cory and his fun-loving approach to life is to find a sense of purpose and meaning for you. Try incorporating an aspect of what Cory or his character Finn inspired in you to your daily life. You might also want to give to a charity in Cory's name.
Create connection
Talking with others about how you feel can be comforting in times of grief. You can talk with friends or connect with others online through Facebook and Twitter. You might also want to send a short note to Cory's family or the cast of 'Glee'. If you feel very strong feelings about this loss, consider creating a memorial and saying a few words about who Cory was and what he meant to you.
Grief is like a fingerprint
Although not commonly understood, grief following the loss of a member of the public media is a very real experience. Allow yourself the experience of sorrow and know that it is okay to feel the way that you do. Grief is like a fingerprint and as unique as each one of us. Remember that there is no one right way to grieve and practice being gentle with yourself during the experience.