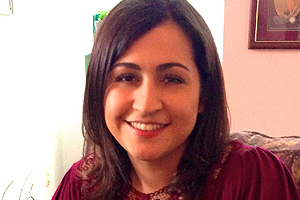 Greetings! I am thrilled to introduce myself to you as the newest addition to the Therapy Changes team. I will be offering therapy services on Tuesdays and Thursdays in the Rancho Bernardo location. I grew up in Los Angeles then had an opportunity to live in beautiful San Diego while I received my undergraduate degree in Psychology at UCSD. After a few years in Chicago, where I attended graduate school and received my doctorate in Clinical Psychology (Psy.D.), I was so happy to return to sunny San Diego for a dream opportunity at Rady Children's Hospital. I was honored to spend three years at Radys working with patients diagnosed with cancer, blood disorders and chronic pain, along with their families. Although I truly valued the challenging yet enriching work I did at Radys, I was so excited to find balance by joining Therapy Changes 5 years ago on a part-time basis. Very soon after joining Therapy Changes, a job opportunity for my husband took us out of state and planted us in Central Wisconsin. Although the freezing temperatures were difficult, I was fortunate to start a private practice opportunity. Working in a smaller community allowed to me to branch out from working with the medical population to taking on a more generalist role.
Over the past few years of providing therapy in the office setting, I have gained a great deal of experience working with a wide range of people with varying concerns as well as the chance to further enhance my therapy skills. Specifically, I use Cognitive Behavioral Therapy (CBT) which is an effective way of managing mental health concerns including symptoms of depression and anxiety, as well as improving self-esteem, interpersonal relationships and overall coping. Now, as my husband and I have made our way back to San Diego, we are grateful for warmer and sunnier pastures, but also the opportunity for me to return to Therapy Changes!
What I truly value in using CBT is that it allows me to work collaboratively with each individual client to help them set and accomplish their personal goals. Although I have the education and training necessary to practice effectively as a therapist, I believe the individuals I work with are the true "experts" to themselves. As your therapist, I will assist you; the expert, in reaching the goals that you set for yourself. I work hard to bring a safe, warm, genuine, non-judgmental, and encouraging atmosphere to each and every therapy session. I recognize that coming to therapy is a brave and courageous move for those who are struggling in their personal lives. I consider it an absolute honor to be entrusted by you and I commit to maintain your trust throughout your personal growth.
My areas of expertise include:
Anxiety and Panic Disorders
Depression and other Mood Disorders
Grief and Loss
Coping with Cancer and Terminal Illness
Stress Management
Interpersonal Difficulties
Self-Esteem
Life Transitions
Chronic Pain